Ammonite | Fossil Information, Metaphysical Properties, Uses All Entries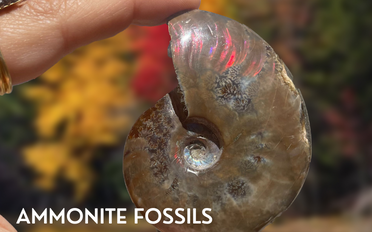 This fossil is a piece of history and is treasured by paleontologists from its complex patterns and background. This fossil has been used for Religious purposes in Hindu and is honored and sacred.
Ammonite has healing properties that are known to best represent the root chakra, while also stimulating the third-eye. These aquatic fossils are a good warrior against negativity while promoting Feng Shui tools in the home.
ORIGINATION
Ammonites are a subclass of Phylum Cephlapoda. Like modern Cephalo-pods, including the Chambered Nautilus and the Squid, Ammonites had well developed eyes and tentacles for grasping food. The lines on the shell are called "suture patterns" and became increasingly complex as the animal evolved. Ammonites apparently evolved from the Ordovician Nautiloids, but didn't become well established until the Mid-Devonian times, or about 300 million years ago. They are now extinct. The word AMMONITE means "Ammon Stone" and refers to the Egyptian God Ammon, who often appeared with ram's horns. The mathematical pattern within the shells are undeniable on Earth; the Golden Mean applies deeply.
METAPHYSICAL PROPERTIES
Ammonites strongly connect you to the root chakra, channeling your inner strength and grounding your body through difficult times. Great for balancing physically and mentally, known as the fossil of Harmony.
Do not use crystal healing practices in place of your normal medicine/healthcare.
img credit: https://www.nhm.ac.uk/content/dam/nhmwww/discover/ammonite-explainer/ammonite-3d-render-two-column.jpg.thumb.768.768.jpg