Celestine aka Celestite | Stone Information, Healing Properties, Uses All Entries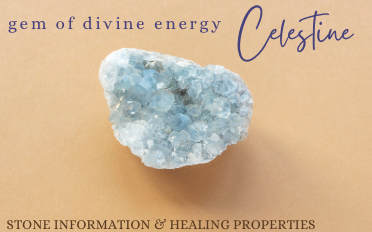 Celestine is a mineral that is known for its beautiful blue color and unique crystal form. It is a strontium sulfate mineral with the chemical formula SrSO4, and is often found in sedimentary rocks such as limestone and gypsum.
Celestine is prized for its striking blue color, which can range from pale blue to deep blue, and its distinctive crystal habit. It typically forms in elongated prismatic crystals, often with flat, parallel faces and a characteristic diamond-shaped cross-section. Celestine crystals can grow up to several inches in length and are highly valued by collectors and mineral enthusiasts for their beauty and rarity.
In addition to its aesthetic properties, celestine is also valued for its industrial uses. It is a source of strontium, a silvery-white metal that is used in the production of ferrite magnets, fireworks, and flares. Strontium is also used in the production of glass for color television tubes and various medical applications.
Celestine is found in several locations around the world, including the United States, Mexico, Spain, and Madagascar, among others. Its unique appearance and industrial uses make it a valuable and important mineral in many different applications.
Do not use crystal healing in place of your medicine/healthcare.