Flower Agate | Stone Information, Healing Properties, Uses All Entries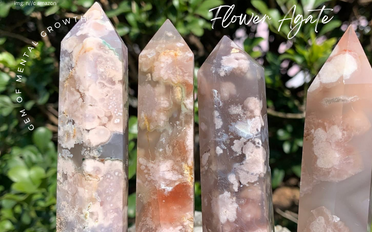 Flower agate is a relatively new variety of agate that is gaining popularity in the world of crystal healing and gemstone enthusiasts. It is a type of chalcedony, which belongs to the quartz family, and is known for its distinctive appearance, which resembles a blooming flower.
Flower agate is found in Madagascar and is characterized by its translucent to opaque white or gray base with delicate pink or orange markings that resemble flower petals. These markings are thought to be caused by inclusions of iron and manganese, which create the unique patterns.
In addition to its striking appearance, flower agate is believed to have a number of spiritual and healing properties. It is said to promote growth and new beginnings, making it a popular choice for those undergoing personal transformation or starting new ventures. Flower agate is also believed to inspire creativity and imagination, making it a favorite of artists and writers.
In terms of physical healing, flower agate is thought to help alleviate stress and anxiety, as well as promote overall well-being and vitality. It is also believed to help improve circulation and strengthen the immune system.
Overall, flower agate is a beautiful and unique gemstone that is prized for its aesthetic and spiritual properties. Whether you are drawn to its delicate flower-like patterns or its purported healing properties, flower agate is a stone that is sure to spark your creativity.
Do not use crystal healing practices in place of your normal medicine/healthcare.