Cavansite | Stone Information, Healing Properties, Uses All Entries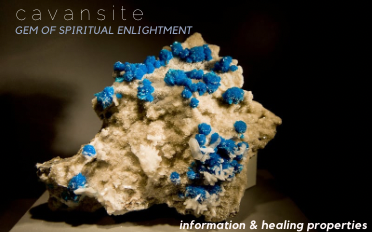 Cavansite is a rare and beautiful mineral that is known for its striking blue-green color and unique crystal form. It is a hydrous calcium vanadium silicate mineral with the chemical formula Ca(VO)Si4O10·4H2O, and is often found in volcanic rocks and geodes.
Cavansite was first discovered in 1967 in Malheur County, Oregon, and was named after its chemical composition: calcium (Ca), vanadium (V), and silicon (Si). It is typically found in globular aggregates of small prismatic crystals, which can form dense clusters that resemble small spheres. The crystals are often a vibrant blue-green color and have a distinctive waxy luster.
Cavansite is highly valued by collectors and mineral enthusiasts for its rarity and unique appearance. Because of its delicate crystal structure, it is difficult to cut and polish, and is primarily used in mineral collections and decorative objects such as spheres and paperweights.
In addition to its aesthetic properties, cavansite is also believed to have healing properties. It is thought to promote clarity of thought, communication, and self-expression, and can help with issues related to the throat chakra. Cavansite is also believed to help with emotional healing and to promote feelings of calm and relaxation.
Cavansite is found in several locations around the world, including India, Brazil, and New Zealand. Its rarity and unique appearance make it a highly sought-after mineral by collectors and enthusiasts alike.
Do not use crystal healing in place of your medicine/healthcare.