Amethyst | Stone Information, Healing Properties, Uses All Entries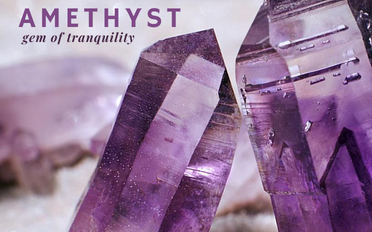 Amethyst is a type of quartz crystal that is prized for its beautiful purple color and unique crystal formations. It is found in many parts of the world, including Brazil, Uruguay, and Zambi, and is known as the birthstone of February.
The purple color of amethyst is caused by the presence of iron and other trace elements in the crystal. The intensity of the color can vary, ranging from a pale lilac to a deep, rich purple. Amethyst can also be found in a variety of crystal formations, including clusters, points, and geodes.
In addition to its aesthetic qualities, amethyst is believed to have a number of spiritual and healing properties. It is said to promote calmness and clarity, and is often used in meditation and other spiritual practices. Amethyst is also believed to have a positive effect on the nervous system, helping to alleviate stress and anxiety.
In terms of physical healing, amethyst is thought to have a number of benefits. It is said to help improve sleep quality, alleviate headaches and migraines, and improve circulation. It is also believed to have a positive effect on the immune system, helping to boost overall health and wellness.
Overall, amethyst is a beautiful and versatile crystal that is prized for its unique color and purported healing properties. Whether you are drawn to its calming energy or its spiritual qualities, amethyst is a crystal that is sure to alleviate your woes.
"Amethyst was my first crystal I loved as a child growing up. Something about the deep shade of purple made me imagine myself as a crystal queen and opened up my imagination. Whenever I was around amethyst I would feel a sense of serenity and joy. Later I found out how amethyst is a reminder of our connection to the divine and was an excellent crystal to use in meditation as it assist with balancing the nervous system and brain," - Kaitlin Rivera, Holistic Practitioner and Sound Healer at Rare Earth Gallery

Do not use crystal healing practices in place of your normal medicine/healthcare.