Moss Agate | Stone Information, Healing Properties, Uses All Entries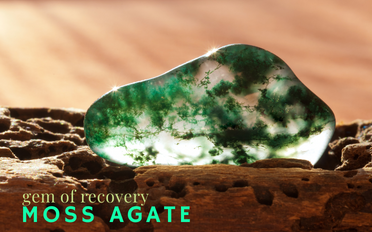 Moss agate is a type of chalcedony, which belongs to the quartz family, and is known for its distinctive green markings that resemble moss or foliage. It is found in many parts of the world, including the United States, India, and Russia.
Moss agate gets its distinctive green color from inclusions of iron and manganese, which create the moss-like patterns. These inclusions can take on a variety of shapes, from delicate filaments to larger moss-like formations that resemble miniature landscapes.
In addition to its striking appearance, moss agate is believed to have a number of spiritual and healing properties. It is said to promote grounding, stability, and balance, making it a popular choice for those seeking a sense of calm and tranquility. Moss agate is also believed to help improve focus and concentration, making it a favorite of students and others in need of mental clarity.
In terms of physical healing, moss agate is thought to have a number of benefits. It is said to help alleviate stress and anxiety, improve digestion and circulation, and boost the immune system. It is also believed to have a soothing effect on the eyes, making it a popular choice for those who suffer from eye strain or fatigue.
Overall, moss agate is a beautiful and versatile gemstone that is prized for its unique appearance and purported healing properties. Whether you are drawn to its moss-like patterns or its spiritual qualities, moss agate is a stone that is sure to enchant.
Do not use crystal healing practices in place of your normal medicine/healthcare.