Azurite | Stone Information, Healing Properties, Uses All Entries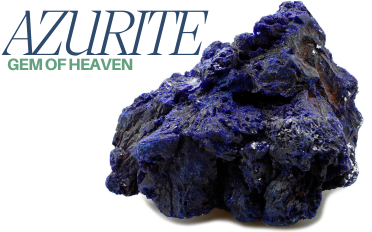 Azurite is a beautiful blue mineral that is prized for its vibrant color and unique crystal formations. It is a copper carbonate mineral that is found in many parts of the world, including the United States, Mexico, and Australia. Azurite's name is derived from the Persian word "lazhward," which means "blue."
Azurite's most notable feature is its deep blue color, which is caused by the presence of copper ions within the crystal structure. The color can range from a pale blue to a rich, dark blue, and is often found in combination with other minerals such as malachite and chrysocolla. Azurite is also known for its unique crystal formations, which can include stalactites, botryoidal masses, and prismatic crystals.
In addition to its beauty, azurite is also valued for its metaphysical properties. It is said to enhance intuition and spiritual awareness, and to promote a sense of inner peace and tranquility. Azurite is also believed to have healing properties, particularly in relation to the throat chakra and the respiratory system.
Azurite has been used for thousands of years, both as a pigment for painting and as a decorative stone. It is a relatively soft mineral, with a hardness of 3.5 to 4 on the Mohs scale, making it easy to carve and shape. Whether used for its beauty or its metaphysical properties, azurite is a unique and fascinating mineral that continues to captivate people around the world.
Do not use crystal healing practices in place of your normal medicine/healthcare.