Aventurine | Stone Information, Healing Properties, Uses All Entries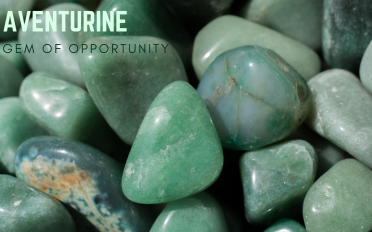 Aventurine is a type of quartz that is known for its sparkling appearance and beautiful range of colors. It is a common mineral that is found in many parts of the world, including Brazil, India, and Russia. The name "aventurine" comes from the Italian word "avventura," which means "adventure," a reference to the accidental discovery of the mineral in the 18th century.
Aventurine's most notable feature is its shimmering appearance, which is caused by the presence of tiny inclusions of mica or other minerals. These inclusions create a sparkling effect known as aventurescence, which can be seen in shades of green, blue, red, and other colors. Aventurine can also be found in non-sparkling varieties, such as white or gray.
In addition to its beauty, aventurine is also valued for its metaphysical properties. It is said to have a calming effect on the mind and body, helping to reduce stress and anxiety. Aventurine is also believed to enhance creativity and promote a sense of abundance and prosperity.
Aventurine is used in many different ways, including in jewelry, decorative objects, and carvings. It is a relatively hard mineral, with a hardness of 7 on the Mohs scale, making it durable enough for everyday wear. Whether used for its beauty or its metaphysical properties, aventurine is a versatile and popular mineral that has captured the hearts of people around the world.
Do not use crystal healing practices in place of your normal medicine/healthcare.