Dendrite | Stone Information, Healing Properties, Uses All Entries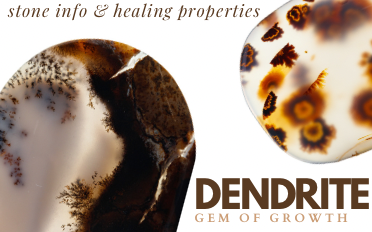 Dendrite is not a specific mineral, but rather a pattern that can be found within various types of minerals, such as agate, jasper, and quartz. The term "dendrite" comes from the Greek word "dendron," which means "tree," and refers to the branching or tree-like patterns that can be seen within these minerals.
The dendritic pattern is formed by the growth of minerals within the rock, which can create branching or tree-like formations that resemble ferns, plants, or other organic structures. These formations are often black, brown, or gray in color and can add a unique and beautiful character to the stone.
In terms of healing properties, dendritic stones are believed to have grounding and stabilizing effects. They are said to help connect one with the natural world and to promote feelings of calmness and serenity. Dendritic stones are also thought to be beneficial for enhancing one's connection to the earth and for promoting a greater sense of balance and harmony.
In addition, dendritic stones are often used in meditation practices to help one connect with the wisdom of the natural world. They are said to help one access information from the past and to gain insight into one's own personal journey. Overall, dendritic stones are a unique and powerful tool for spiritual growth and healing.
Do not use crystal healing in place of your medicine/healthcare.