Charoite | Stone Information, Healing Properties, Uses All Entries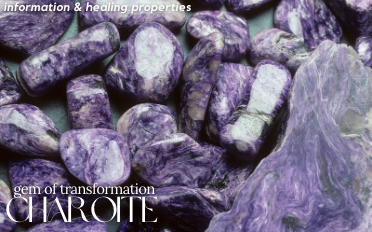 Charoite is a rare and beautiful mineral that is known for its unique purple color and distinctive texture. It is a hydrated potassium sodium calcium silicate mineral with the chemical formula (K,Sr,Ba)(Ca,Na)2Si4O10(OH·H2O), and is primarily found in the Murunskii Massif in Siberia, Russia.
Charoite is prized for its rich purple color, which can range from lavender to deep violet, and its unique swirling patterns and textures. These patterns are caused by the mineral's fibrous structure, which is formed through a complex process of mineralization and alteration.
Charoite is believed to have formed in a unique geological setting, which involved the intrusion of an alkalic igneous rock into a limestone formation. The intrusion caused a process of metasomatism, which involved the exchange of elements between the igneous rock and the limestone. This led to the formation of a series of minerals, including charoite, which formed in cavities and fractures in the rock.
The unique texture of charoite is caused by the mineral's fibrous structure, which is composed of interlocking and radiating fibers. These fibers are thought to have formed through the alteration of other minerals, such as phlogopite and aegirine, which were present in the rock. Over time, the fibers became oriented and aligned, forming the distinctive texture that is characteristic of charoite.
The formation of charoite is a complex and rare process, which makes it one of the most sought-after and valuable gemstones in the world. Its unique texture and rich purple color make it highly prized by collectors and jewelry enthusiasts alike.
Do not use crystal healing in place of your medicine/healthcare.