Cuprite | Stone Information, Healing Properties, Uses All Entries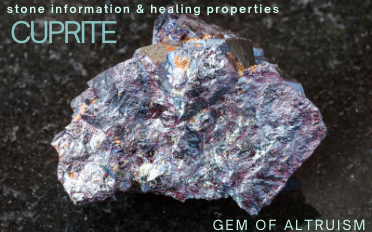 Cuprite is a mineral that is primarily composed of copper oxide. It is found in various locations around the world, including the United States, Russia, and Australia.
Cuprite is formed through a combination of geological processes, including the oxidation of copper sulfide minerals in copper deposits. It is often found in association with other copper minerals such as chalcocite and malachite.
In terms of stone information, cuprite is typically dark red to brownish-red in color, although it can also be found in shades of black and gray. It has a hardness of 3.5 to 4 on the Mohs scale, which makes it relatively soft and prone to scratching. It has a sub-metallic to metallic luster, and a specific gravity of 5.85 to 6.15.
In terms of healing properties and capabilities, cuprite is said to have a number of benefits. It is believed to promote vitality and physical strength, and to aid in the healing of the physical body. It is also said to enhance mental clarity and focus, and to promote a sense of calm and relaxation.
Cuprite is also thought to have a number of spiritual benefits. It is said to help individuals connect with the energy of the Earth and the natural world, and to promote a sense of grounding and stability. It is also believed to enhance intuition and psychic abilities, making it a popular choice for those who are interested in spiritual development.
Overall, cuprite is a unique and powerful mineral with a number of potential healing properties and capabilities. Whether you are drawn to its deep red color or its grounding energy, It is worth a chance to see its capabilities.
Do not use crystal healing in place of your medicine/healthcare.