Laguna/Crazy Lace Agate | Stone Information, Healing Properties, Uses All Entries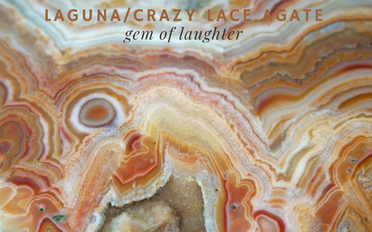 Laguna lace agate and crazy lace agate are both types of agate that are known for their distinctive banding patterns and vibrant colors.
Laguna lace agate is found primarily in the state of Chihuahua, Mexico, and is known for its intricate banding patterns, which can range from subtle hues of pink and gray to bold stripes of red, orange, and yellow. The patterns in laguna lace agate are often described as resembling the layers of sedimentary rock formations, with intricate veining and swirling patterns that create a sense of depth and movement.
Crazy lace agate, on the other hand, is found primarily in Mexico and is known for its wild and unpredictable banding patterns. These patterns often feature intricate swirls and whorls of contrasting colors, ranging from deep reds and oranges to bright blues and greens. The patterns in crazy lace agate are often described as resembling a chaotic and swirling landscape, with no two specimens ever quite the same.
Both laguna lace agate and crazy lace agate are highly valued for their beauty and are often used in jewelry making and other decorative applications. They are also believed to have spiritual and healing properties, with some people using them to promote emotional balance and stability or to alleviate stress and anxiety.
Overall, laguna lace agate and crazy lace agate are two fascinating and beautiful varieties of agate. Whether you are drawn to the intricate banding patterns of laguna lace agate or the wild and unpredictable patterns of crazy lace agate, these stones are sure to captivate and inspire.
Do not use crystal healing practices in place of your normal medicine/healthcare.