Angelite | Stone Information, Healing Properties, Uses All Entries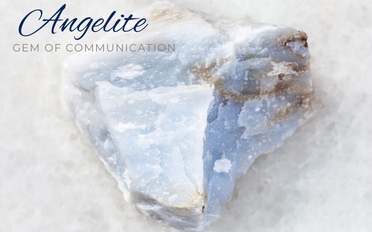 Angelite (also called Anhydrite) is a fairly new gemstone that is gaining popularity for its unique blue color and spiritual properties. It is a type of anhydrite mineral and is found in Peru, Germany, and Mexico.
Angelite is characterized by its delicate blue color, ranging from pale blue to a deeper, more vibrant hue. Its coloration is caused by the presence of calcium sulfate and other trace elements. Angelite is also known for its soft, almost powdery texture, which makes it a popular choice for carving and sculpting.
In addition to its aesthetic qualities, angelite is believed to have a number of spiritual and healing properties. It is said to promote calmness and tranquility, and is often used in meditation and other spiritual practices. Angelite is also believed to have a positive effect on the throat chakra, helping to promote clear communication and self-expression.
In terms of physical healing, angelite is thought to have a number of benefits. It is said to help alleviate stress and anxiety, improve circulation, and soothe the nervous system. It is also believed to have a positive effect on the respiratory system, helping to alleviate symptoms of asthma and other respiratory illnesses.
Overall, angelite is a beautiful and unique gemstone that is prized for its delicate blue color and spiritual properties. Whether you are drawn to its calming energy or its healing properties, angelite is a gemstone that is sure to soothe your body.
Do not use crystal healing practices in place of your normal medicine/healthcare.