Amethyst vs Chevron Amethyst | What's the Difference? All Entries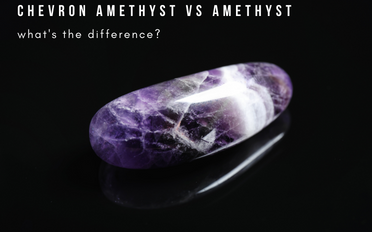 Amethyst is a beautiful purple stone with power in tranquility and balancing emotions. Chevron Amethyst is similar in energy to regular Amethyst, even sharing vibrational patterns and metaphysical capabilities. One of the main differences between the two is characterized by it's appearance! Chevron Amethyst has white quartz banding, usually appearing in a V or chevron pattern, but can also appear as thin white lines that look like fractures throughout the stone. Chevron Amethyst combines the metaphysical powers between Quartz and the stress-relieving properties of Amethyst, lessening ones resistance on your path to self-discovery. This stone is often said to be stronger and more powerful, especially with higher chakras, focusing often on the third eye and crown chakras. These stones are often confused, but anyone looking for a powerful variety of Amethyst will find a great candidate in Chevron! Regular amethysts are great for a gift as February birthstones, as well as a general mood stabilizer.
Do not use crystal healing practices in place of your normal medicine/healthcare.