Ametrine | Stone Information, Healing Properties, Uses All Entries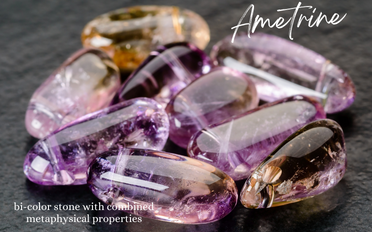 Ametrine is a gemstone that contains both the powerful purple healer Amethyst and the gem of Success Citrine, in a brilliant display of bi-colored natural patterns. The name of the gemstone perfectly describes the properties.
This stone derives its color from Iron content, which depending on the state of oxidation at the time of the crystals formation, resulting in the lilac and golden colors. These deposits often create bands of quartz crystal and other quartz colors.

Metaphysically, the combination is super neat! Connecting the Solar Plexus chakra with all higher chakras, bridging the line between the physical and mental planes. This stone is outstanding for communication, even used to enhance creativity, learning, intuition, etc. Start your journey of under
standing, relaxation, and abundance with our Ametrine products.
Do not use crystal healing practices in place of your normal medicine/healthcare.