Bloodstone | Stone Information, Healing Properties, Uses All Entries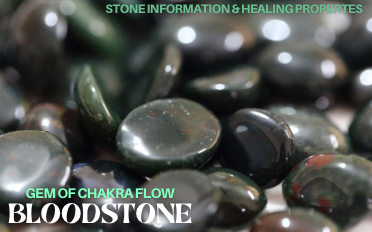 Bloodstone is a dark green to dark bluish-green variety of chalcedony that is flecked with vivid red spots of iron oxide. It is also known by the name "heliotrope," which comes from the ancient Greek words for "sun" and "turning," referring to the belief that when placed in water facing the sun, it could turn the reflection of the sun red.
Bloodstone has been treasured as a gemstone since ancient times, and was believed by many cultures to have powerful mystical properties. In the Middle Ages, it was thought to have the ability to stop bleeding, and was often used in amulets and talismans for this purpose. It was also believed to have protective qualities, and was used to ward off evil spirits and bring good luck.
Today, bloodstone is still highly valued as a gemstone, and is often used in jewelry such as rings, earrings, and pendants. It is also sometimes used in carvings and other decorative objects. Bloodstone is found in several locations around the world, including India, Brazil, Australia, and the United States, among others. Its striking appearance and rich history make it a popular choice for those seeking unique and meaningful gemstones.
Bornite is a mineral that is known for its striking colors and unique physical properties. It is a copper iron sulfide mineral, with a chemical formula of Cu5FeS4, and is also known as peacock ore due to its iridescent colors, which can include shades of blue, purple, green, and gold. The colors are caused by the thin oxide layer that forms on the surface of the mineral.
Do not use crystal healing in place of your normal medicine/healthcare.