Blue Goldstone | Stone Information, Healing Properties, Uses All Entries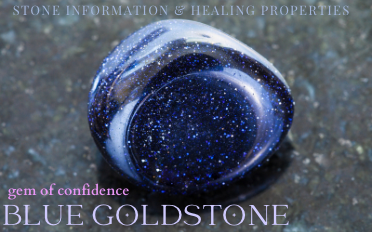 Goldstone is a beautiful synthetic stone that is made from glass and copper oxide. It has a glittering finish and comes in a fiery red or deep indigo hues. It gained its popularity from the tiny sparkling crystals inside the stone that make it look like it's made of fairy dust!
Goldstone is created through a process called annealing, in this process they heat glass to the melting point of copper oxide. Once the copper oxide is completely dissolved into the melted glass they then begin the cooling process. The cooling process is done very slowly so that the copper ions have enough time to pool together and create their crystals within the glass.
Goldstone, also known as Aventurine glass, was first invented in the 17th century in Venice, Italy by the Miotti family. The Miotti family were renowned venetian glassmakers, they owned a glasshouse called 'Al Gesu Murano' meaning "at the sign of jesus". They actually made Goldstone by accident when copper shavings fell into one of their melted glass! They found that this created a beautiful glittering glass and they decided to replicate and perfect the process.
Energetically, Goldstone is known to be the stone of ambition, upliftment and positivity. Goldstone is said to help bring patience and harmony to stressful situations, its intuitive energy can help with balancing overwhelming emotions. Goldstone is an incredible stone to carry with you, it can help bring goodluck, wisdom and compassion. This stone is admired and believed to reduce tension, drive ambition and encourage a positive attitude.
The red and blue goldstone are attuned to different chakras. Red Goldstone connects and clears blockages from the root chakra, while blue goldstone is associated with the throat chakra. Aiding in clear communication, strong self-expression and helps dissolve any self-doubt.
Do not use crystal healing in place of your medicine/healthcare.