Bumblebee Jasper | Stone Information, Healing Properties, Uses All Entries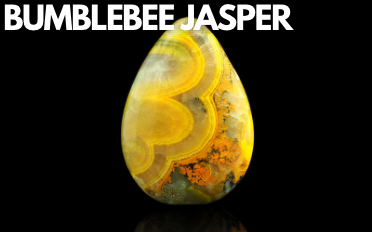 Bumblebee Jasper is a unique and striking mineral that has gained popularity in the world of gemstones and jewelry. Its formation, distinct pattern and colors, as well as its intriguing toxicity, make it a fascinating gemstone to explore.
Bumblebee Jasper is not actually a jasper in the traditional sense but rather a combination of various minerals. It is formed from a mixture of volcanic ash, sulfur, and other minerals that are compressed and heated over time. This volcanic activity gives Bumblebee Jasper its vibrant colors and distinctive patterns.
The most remarkable feature of Bumblebee Jasper is its striking combination of bright yellow, orange, and black hues. The vibrant yellow and orange colors resemble the stripes of a bumblebee, hence the name. These bold colors are often intermingled with contrasting black patterns, creating a visually captivating gemstone.
While Bumblebee Jasper possesses alluring aesthetics, it's important to note that the mineral itself contains trace amounts of sulfur and arsenic, making it toxic in its raw form. However, when properly prepared and used in jewelry and decorative stones, the risk of exposure to these toxins is minimal. The process of cutting, shaping, and polishing the stone helps to seal the minerals and reduce the potential for any harmful effects.
It's essential to handle Bumblebee Jasper with care and avoid inhaling any dust or powder generated during the cutting or shaping processes. As with any gemstone or mineral, it is advisable to wash your hands after handling Bumblebee Jasper to minimize any potential exposure.
Bumblebee Jasper's toxicity should not deter enthusiasts from appreciating its unique beauty. When used in jewelry, it can create stunning statement pieces that showcase the stone's vibrant colors and distinctive patterns. Its bold and eye-catching appearance makes it a popular choice for those seeking an unconventional and attention-grabbing gemstone.
As with any gemstone or mineral, it's always advisable to purchase Bumblebee Jasper from reputable sources to ensure its authenticity and quality. By doing so, you can enjoy the captivating beauty of Bumblebee Jasper while appreciating the precautions taken to make it safe for use in jewelry and decorative items.