Chrysoprase | Stone Information, Healing Properties, Uses All Entries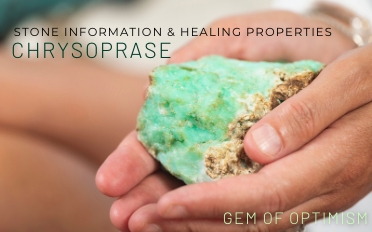 Chrysoprase is a bright green-colored variety of chalcedony, which is a type of quartz mineral. It is found in various locations around the world, including Australia, Brazil, and the United States.
Chrysoprase is formed through a combination of geological processes, including the deposition of silica and the presence of nickel minerals. It is typically found in weathered nickel deposits, often in association with other minerals such as magnesite and dolomite.
In terms of stone information, chrysoprase is typically apple-green in color, although it can also be found in shades of yellow-green and brown-green. It has a hardness of 6.5 to 7 on the Mohs scale, which makes it relatively hard and durable. It has a waxy to vitreous luster, and a specific gravity of 2.58 to 2.64.
In terms of healing properties and capabilities, chrysoprase is said to have a number of benefits. It is believed to promote healing and regeneration, particularly in the areas of the physical body that are related to the heart and lungs. It is also said to aid in emotional healing, particularly in the areas of forgiveness and self-acceptance.
Chrysoprase is also thought to have a number of spiritual benefits. It is said to help individuals connect with the energy of the Earth and the natural world, and to promote a sense of harmony and balance. It is also believed to enhance creativity and stimulate the imagination, making it a popular choice for artists and writers.
Overall, chrysoprase is a beautiful and versatile gemstone with a number of potential healing properties and capabilities. Whether you are drawn to its vibrant green color or its spiritual energy, it is a stone that is definitely worth exploring further.