Bronzite | Stone Information, Healing Properties, Uses All Entries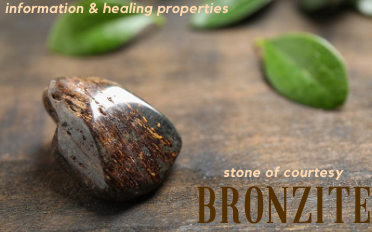 Bronzite is a mineral that belongs to the pyroxene group. It is typically a greenish-brown to brown color and has a metallic luster, which gives it a bronze-like appearance, hence its name. Bronzite is composed of magnesium iron silicate, with the chemical formula (Mg,Fe)SiO3, and is often found in metamorphic rocks such as gneiss and schist.
Bronzite is valued for its unique appearance, durability, and hardness. It has a hardness of 5 to 6 on the Mohs scale, making it suitable for use in jewelry and other decorative items. Bronzite is often used as a gemstone in beads, pendants, and other jewelry pieces. It is also used in carvings, sculptures, and other decorative objects.
In addition to its aesthetic properties, bronzite is also believed to have healing and spiritual properties. It is thought to promote harmony and balance in one's life, and to help with decision making and problem solving. Some people also believe that bronzite can help with stress and anxiety, and can provide protection from negative energies.
Bronzite is found in several locations around the world, including Austria, Italy, Madagascar, and the United States. It is often found in association with other minerals such as feldspar, quartz, and garnet. Its unique appearance and healing properties make bronzite a popular choice for collectors and jewelry enthusiasts alike.
Do not use crystal healing in place of your medicine/healthcare.